How To Choose The Perfect Hat advice by Personal Stylist UK Deni Kiro –
The new season is upon us and its time to look at what accessories are trending. Today our stylist is taking you for a store visit at Maison Michel to show you the finest and most fashionable luxury headwear for 2020-2021.
"When it comes to designer accessories, I advise my clients to 'choose right, buy once & cherish forever'. The Maison Michel hats have all the necessary components of a timeless investment pieces: statement design with a modern yet ageless feel. These unique hats will give a fresh look to your last season's coat. "- Personal Stylist UK Deni Kiro
About Maison Michel
Maison Michel is part of Chanel's "Métiers d'Art" and is a reference of the most fashionable and luxury headwear. The brand's new flagship boutique has recently opened its door at a new location on Conduit Street. The Maison Michel collection can also be found via their international partners such as Bon Marché, Harrods, Tsum, Farfetch, MatchesFashion, Joyce, Boon The Shop, The Webster, Hudson Bay, Harrold's, Luisa Via Roma. 
How To Choose The Perfect Hat by Personal Stylist UK Deni Kiro
For the new season, a stylish hat is a must for an elegant wardrobe. There are two important aspects when it comes to picking the perfect hat – the shape and the colour. Choose a hat size that complements the shape of your face. If you try a hat and the first thing you see is the design rather than your face, put it back. Picking the right colour is also key. Generally, warm tones tend to suit better peachy skins while cooler shades compliment olive and neutral skin tones. The colour of your hat must also coordinate with your wardrobe and work as a tasteful accent to your coats & jackets. If you are unsure what is your complexion, you can book a professional Colour & Body Shape Analysis with an expert stylist.
" A well-chosen hat should complement your features rather than overpower you."
Tweed paperboy hat and pink tweed beret
"An accessory such as hat adds so much personality to an outfit. This tweed paperboy hat hints back to an outfit from The Devil Wears Prada."
Henrietta grosgrain-trim felt hat in burgundy and Andre wool felt trilby hat in dusty pink
"The perfect hat is a combination of finding the right colour & shape. When it comes to accessories, I love to keep hats as accents and would pick one in a contrasting colour such as burgundy to complement my neutral outfit."
"If you want to keep your look tonal, a neutral hat in dusty pink or cream will be something that will always look classy. For a hat with an edge, try the Maison Michel wool hat with pearl detail (love!)"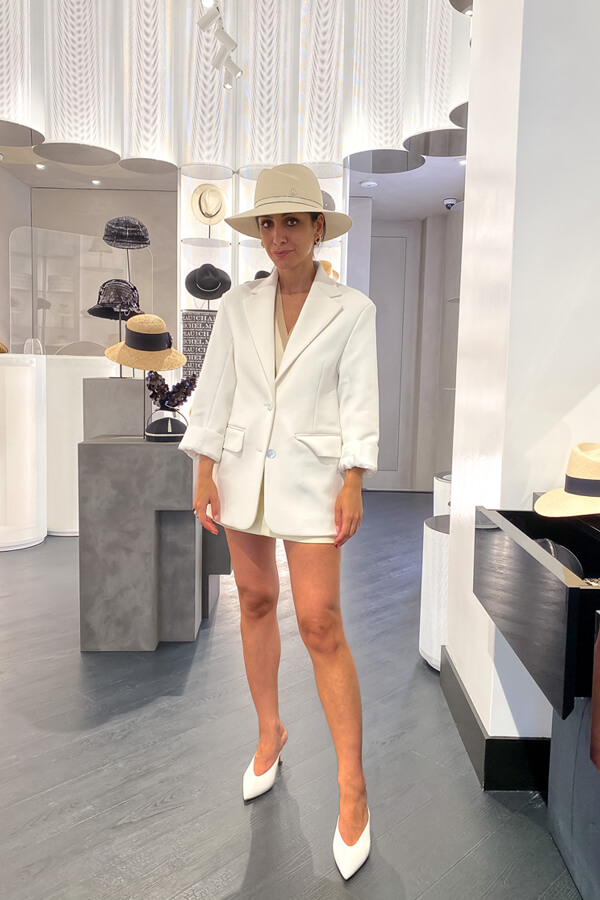 " This blue beret is not the perfect shape for me, but on a blonde lady with a smaller face, it will look beautiful."
There is also a new Bonnie lace veil beret in cream
"This one is also not my usual choice in terms of shape, but it's always great to experiment with accessories and try new styles."
"This lady-like hat looks uber chic not only for the summer but also styled with tailoring for mid-seasons. It will add softness and feminine touch to your structured blazers."
If you enjoy subtle classics, the Fedora Virgine Straw hat might be a better match over the colourful style.
"Lastly, here are two resort styles on my radar. Hats with prints and a mix of colour are great for styling – you can pick any colour from the hat for your outfit. Plus, you can wear them with denim and a simple tee for a mid-season city stroll. To end the edit, I chose an oversized hat style – pair it with a yellow or green maxi dress for the ultimate resort look."
Book A Personal Styling Appointment UK At Maison Michel
Not all hats suit everybody and not everyone knows how to choose the perfect hat, furthermore, this is where your professional stylist can help you pick the best style for your complexion & style personality. Your professional stylist will ensure that you have plenty of ideas for outfit combinations to wear your hat with, turning this accessory into a versatile piece in your wardrobe. If you ever ask yourself if there is a professional stylist near me, you should wait no longer – Book your free initial consultation with Deni Kiro Style today or email stylist@denikiro.com for more information.