"The styling session with Deni was such an amazing moment, I felt like a princess and I have learnt a lot about how to dress for my age, for the situation, and everything in between. I liked the professionalism, the structure of the session, the fact that she took time to get to know me, the fact that she took photos of every outfit so I can remember how to put them together. I understand how to build a wardrobe now, I am not longer going to buy clothes based on emotions, it will be rationalized based on the template you gave me. Thank you so much for your precious advice on layering, the combination of items, accessorizing, you helped me pick items I would have never picked, and I feel like a million-dollar woman now, really confident. I recommend Deni to everyone considering dressing better! it is not a luxury service, it is a service we should all consider to invest in ourselves."
Today's Personal Style Story features our lovely client Amandyne Bruneaux. Further, read more about Amandyne, why she hired a personal stylist and her experience with Deni Kiro Style Consulting.
Amandine, tell us about yourself? 
I am a 36 years old, french woman who recently moved to London for work. I would describe myself as "happy, optimist and grateful". However, a few weeks ago, on that Monday morning, I realized the way I dressed was not aligned with my personality.  Especially as I was putting on that same black washed out skinny jeans and a grey sweater. I had been wearing these almost every Monday for the past months. This was not the image I wanted to send to the world. That was when I decided to shift my personal style story and make a change. I wanted to embrace the smart professional woman look and bring that image to the world.

Amandyne wears  a Ress dress, Claudie Pierlot belt and Massimo Dutti bag.
What do you work and hobbies?
I work as a senior product manager for a tech company specialized in travel in central London. During my free time, I coach and mentor younger product professionals to succeed in their field. I also very much enjoy destressing by cooking healthy meals, working out, walking a lot (there is a huge spike on health app every weekend :-)). Meditating and practising reiki helps me to align with the universe and create fun experiences in my life. I like to try new things, new restaurants, new food with friends as well as explore London neighbourhoods, museums, concept stores.

Outfit from a selection of clothes from Reiss, Claudie Pierlot and Massimo Dutti.
How would you describe your personal style story?
Before I met Deni, my personal style story was most comfortable and casual. My brief was to achieve a wardrobe that makes dressing easy, quick and practical. In my dreams, I was looking for a feminine and modern classic style.
How did you decide to book a style session for the first time?
I decided to book a styling session because I was tired of wearing the same things over and over again. Since moving to London, I had been working out hard to reach my health goals and shape a great body for myself. I thought it was time to show my well-improved body while being more glamorous in a way that could fit in my lifestyle. The biggest problem was that I was not attracted to British fashion. I was walking in stores as fast as I was walking out, not really finding any piece that made me feel good.
"After looking online at the concept of a capsule wardrobe and call the service of a personal stylist to help me craft my style. I was very much attracted by the idea of not having to spend hours looking for pieces and hopping in many stores. Furthermore, even more, attracted by the idea of getting help shopping for many pieces that I could mix and match to create multiple styles. Outfits that would help me make the most of my well worked out body."- Amandyne

Reiss dress styled with star hoop errings from Other Stories.
What did you want to achieve?
I was looking to revamp my wardrobe and have a new foundation to build off of. I wanted to feel like a feminine woman who is confident in her shoes and clothes. Someone who sends the image of professionalism and trust. while not being over the top. An understated elegant style to fit with the atmosphere of my company. However, when I speak to mentees or people I coach, I like to look accessible yet well put together. Last but not least, I wanted to work with someone who could show me how to have versatile pieces that I could wear both for work and going on a date. I was looking for recommendations on how to be sexy and feminine at 36 (which is not the same as when you are in your 20's).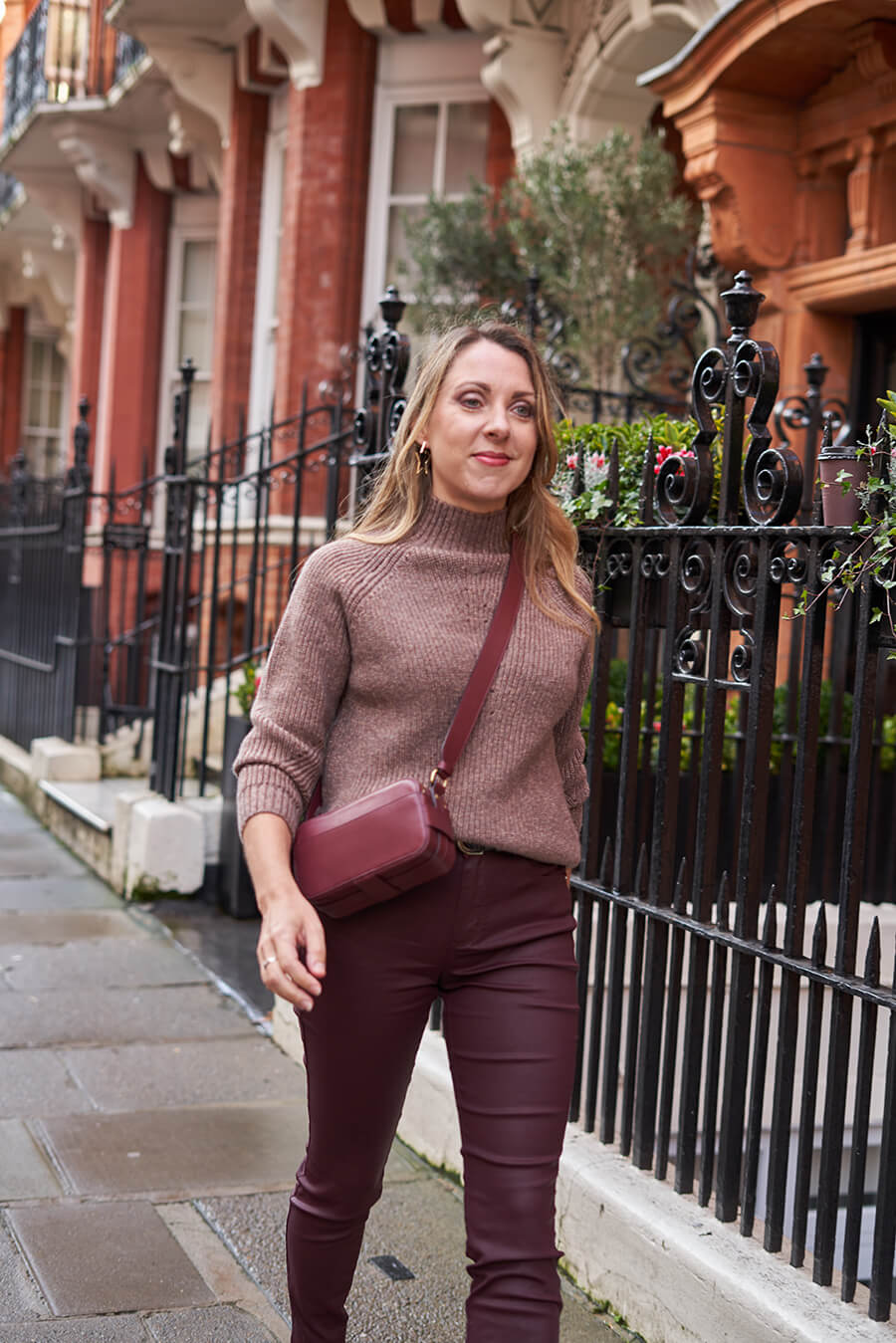 Working with Deni was so insightful. She explained things to me, very simply, but very efficiently. How to find separates, how to mix and match them, how to create a feminine silhouette by wearing a belt. She taught me not to buy with my emotions anymore but with rationale. From now on, I think about what I am going to wear the night before. I make sure I leave the house feeling happy, with my waist showing, never walking out without a belt nor earrings.
"If you can find 3 occasions to wear it, then you can purchase it" Deni says. Great advice! She taught me how to dress up or dress down the same piece of clothing. I kept a mental note of all the things she told me: "tuck your sweater in", "Re-create your waist by putting your cami in your trouser".- Amandyne

Outfit from a selection of clothes from Massimo Dutti, Fendi sunglasses.
Are you looking for styles that reflect your true personality? A personal stylist can point you in the right direction and give you tools to be your true self. Contact us to book a session with your very own personal stylist.
Photos: @byninaduque
Stylist: @denikirostyle
Style Assitant: @kamilaluck
Related: check 3 Reasons Why You Need a Personal Shopper in London here.