Aline Cara Luna is a beautiful German model and author, with whom I had the pleasure of  working with and styling for interview with Elle Arabia. This project focused on portraying Aline's career journey, and her transition from being a fashion show model to a lingerie designer and to an author. Given the brief, I handpicked outfits and accessories to represent Aline's style personality and Elle Magazine's aesthetics.  
Outfits Selected for Aline's Elle Arabia Shoot  
One of the first looks I put Aline in a yellow-ochre Taller Marmo one-shoulder crepe dress . This dress is beautifully crafted with a wraparound satin necktie, with cape sleeves, and then finished with a skirt with a slit on the side. To add some dimension and texture to the dress, I added straight leg trousers with fringes in an ivory shade from Taller Marmo underneath. I paired this outfit with Malone Souliers Maureen mules, which added a feminine and elegant  touch.
To complete the look and add some 'bling', a bespoke diamond and sapphire ring from Kensington Parker was added.
Read the full interview with Aline at Elle Arabia October 2021 issue here
The next look was also a Taller Marmo gown with fringed crepe kaftan. The gown has glamourous wide sleeves and a waterfall-like fringe hem accent. To balance out the bold dress, I paired it with nude mules from Malone Souliers in the style JIL. Elegant diamond earrings and diamond ring from Kensington Parker completed the look and gave it an elegant feel.
"This red magenta gown created a bold look that complements Aline's complexion. Choosing the right shade for her skin tone made her face shine"
"One of the star looks was a jacquard coat paired with a unique sapphire and diamonds set on loan from a collector. Both pieces are rare and sourced especially for Aline's photoshoot to ensure a one-of-a-kind look."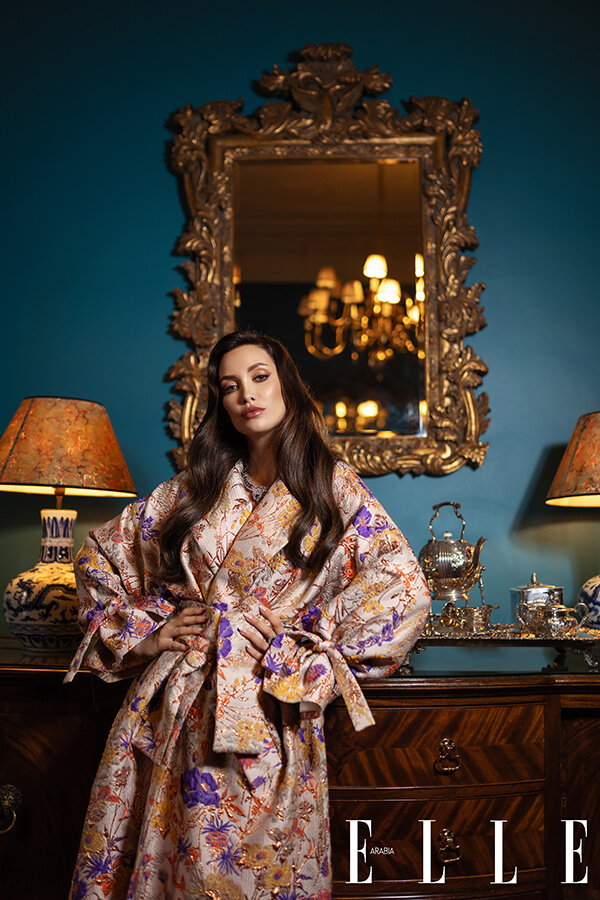 This next look had a hint of the chic 1920's fashion with the feathers and fringes but with a  modern twist. Our styling team had a few feather pieces in mind including a feather trip mini dress  and sky blue asymmetric gown but eventually we settled for ivory.
"An ivory monochromatic look is very elegant and with the feather and fringe details,

 

the outfit has more dimension and movement. A unique mule from Malone Souliers that has a

 

net and mesh fabric with a signature crystal crest was paired with the look. The outfit was

completed with bespoke diamond earrings and a statement diamond ring from Kensington Parker."

Both the fringe trousers and the feather-neck detailed blouse are from Taller Marmo.
The last look I put together was a shape flattering fitted dress. This one-should black dress is from Bogdar and it's made from a velvet ruched fabric with fringe hems. This beautiful all black dress resembles strength and confidence. To balance the look, I paired it with Malone Souliers Maureen mules in nude. To give this outfit a glamours evening feel it was paired with diamond earrings and out of this world diamond neckless from Kensington Parker.  
If you are interested in getting professionally styled whether it's for a special event or a  professional photoshoot, you can explore our bespoke styling services and enquire more information by emailing stylist@denikiro.com.  Our incredible connections with fashion labels, designers and boutiques ensures we can source a one-of-a-kind look for you.
Related: check Steal Aline's Cover Look From Elle Arabia
Photos & videos : Igor Fain
Model: Aline Cara Luna
Makeup: Alina Petrovic
Published in Elle Arabia October 2021